LODGES & CHAPTERS COMMUNITY SERVICE
 "In whatever you do, don't let selfishness or pride be your guide. Be humble, and honor others more than yourselves. Don't be interested only in your own life, but care about the lives of others too." – Philippians 2:3-4
2 Corinthians 9:9-11
"God freely gives his gifts to the poor, and always does right."  God gives seed to farmers and provides everyone with food. He will increase what you have, so that you can give even more to those in need.  You will be blessed in every way, and you will be able to keep on being generous. Then many people will thank God when we deliver your gift.
King David Lodge #29 gave twelve thanksgiving baskets to families this year, made donations to Churchland Football Association and donated coats and clothes to the US Virgin Islands.
Brother Kwamie Lassiter is a member of Fletcher Lodge #26, who lives in Phoenix, Arizona continues to raise money and awareness for Sickle Cell through the Kwamie Lassiter Foundation.
On October 28, 2017, The Kwamie Lassiter Foundation hosted their 3rd Annual Celebrity Bowling Fundraiser!  The event was a huge success thanks to contributors and supporters in the Phoenix Metropolitan Area.  The event raised roughly $10,000. The money raised will help the foundation continue to sponsor World Sickle Cell Day, which is held annually in order to help increase public knowledge and raise awareness of this disease. In addition, Kwamie Lassiter Foundation is also able to provide:
Holiday meals, Christmas gifts, and needed financial support for families suffering from Sickle Cell Anemia
Birthday In A Bag for Phoenix Children's Hospital
Backpacks and school supplies
Bone Marrow Transplant Drives
Gift cards for families and patients of Phoenix Children's Hospital.The Kwamie Lassiter Foundation has been a giving back to the community since 1999.
Lone Star Lodge # 2 blessed eleven families with Thanksgiving baskets on Virginia and Maryland Eastern Shores. This event is part of our yearly holiday give away to the communities in which we live, work and fellowship.
"For we are God's handiwork, created in Christ Jesus to do good works, which God prepared in advance for us to do." Ephesians 2:10
On November 20, 207, Brothers of Lee Harrell Lodge #23 gave 60 turkeys to members of the community and various churches.
On November 17, 2017, Brothers of Lee Harrell Lodge #23 along with Sisters of Early Rose Chapter #5 served the homeless community Thanksgiving dinner at Julius Conn Center
for the Clean and Comfort Program. We fellowship with everyone with prayer and a reading from Matthew 25: 35-40 "For I was hungry and you gave me something to eat, I was thirsty and you gave me something to drink, I was a stranger and you invited me in; I needed clothes and you clothed me, I was sick and you looked after me, I was in prison and you came to visit me. "Then the righteous will answer him, 'Lord, when did we see you hungry and feed you, or thirsty and give you something to drink. When did we see you a stranger and invite you in, or needing clothes and clothe you? When did we see you sick or in prison and go to visit you?' "The King will reply, 'Truly I tell you, whatever you did for one of the least of these brothers and sisters of mine, you did for me."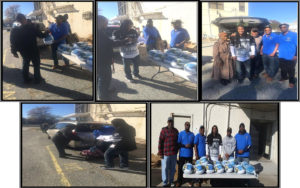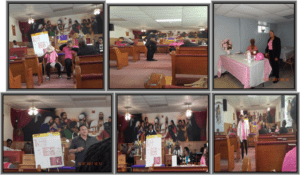 Nor do they light a lamp and put it under a basket, but on a lampstand, and it gives light to all who are in the house. Let your light so shine before men, that they may see your good works and glorify your Father in heaven. Matthew 5:15-16(NKJV)
On October 7, 2017, Early Rose Chapter #5 joined with Sister Linda Lucas and Rising Star Christian Church to host their Annual Health Fair and Breast Cancer Awareness Breakfast Program. Our guest speakers were from the Riverside Hospital Cancer Center, Fort Eustis McDonald Army Hospital and Affleck representative Siretta Costin. During the Health Fair, we covered topics on Breast and Prostate Cancers, Sickle Cell Anemia and Diabetes. There was a Blood pressure check station and a voter registration table. All females were asked to wear pink tops with black skirts and all men were asked to wear black tops with black pants. Special thanks to Brothers of Fletcher Lodge # 26, King David Lodge #29 and Lee Harrell Lodge 23, Whitestone Military Lodge #2, Sisters of Early Rose Chapter #5, House of Leah #59, Golden Leaf #6, Faith Chapter #2, Queen of Sheba #33, Unity Chapter #28, Mercy Chapter #29, Naamah Chapter #23 and Sister
Jackie Horton of Brighten Light Chapter #118, Prince Hall from Portsmouth, Va. Sister Linda Lucas and Sister Mozelle Jarrett performed a skit called "Cancer is no Laughing Matter" written by Sister Lucas which included demonstrations on how to check your breast for lumps once every month. Mr. Raymond Simmons, world renowned author cited one of his beautiful poems. We appreciate Brother Reverend E. Howard Macklin for our devotions and Sister Frances P. Raynor as our Mistress of ceremony. Early Rose Chapter #5, would like to say thank you for your continued support and we appreciate the Rising Star Christian Church and Hospitality committee.